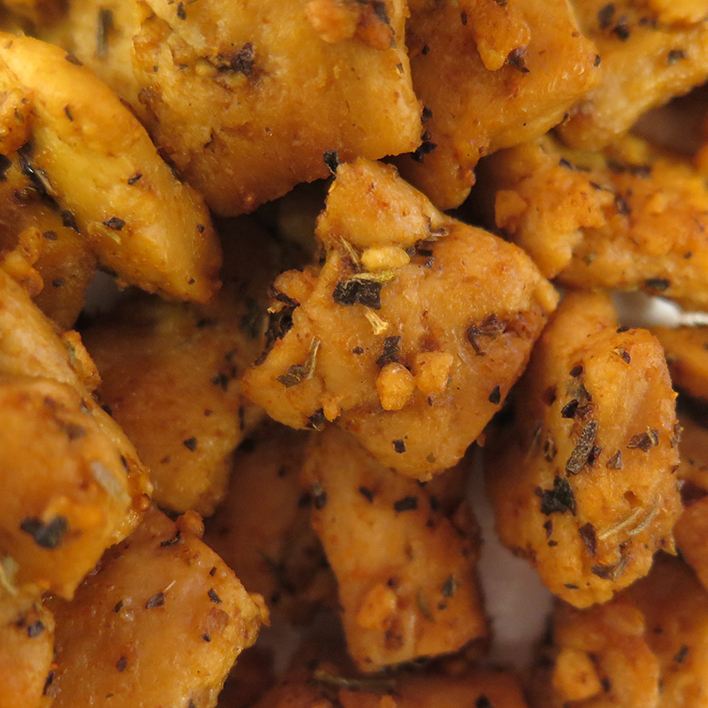 Marinated Plant Mate pieces – Is suitable for many dishes.
See proposals for taste variants below recipe.
Start with the neutral marinade.
Ingredients:
1 bag Plant Mate pieces, 125g
1/2 litre boiling water
2 tbsp oil – whichever you prefer
1 tsp salt
1/4 tsp black pepper, ground
Stir the Plant Mate pieces  with salt and pepper in a bowl.
Pour the boiling water over the Plant Mate pieces.
Add in the oil and stir.
Put a lid on the bowl and let it sit for 20 minutes. Stir occasionally.
The Plant Mate pieces are now ready for eating!
They are suitable in salads, as a pizza topping or as roasted on a soup.
They are also really delicious if you roast them in butter or oil for a small amount of time. Preferable with a spice mix of some sort. Here are a couple of suggestions:

1/2 tsp cayenne pepper or chili powder, ½ tsp smoked paprika, ans 1 tsp sweet paprika.
1 tbsp garam masala and 1 tbsp minced chives or parsley.
1 tbsp ras el hanout and some orange juice.
1 tbsp minced garlic, 1 tsp smoked paprika, 1 tsp sweet paprika, ½ tsp cayenne pepper, and 1/4 tsp ground cumin.

The roasted and spicy Plant Mate pieces are suitable for a salad, as soup topping or even as a healthy snack – whatever you can think of.
See also the recipes for marinated Plant Mate pieces that adds both colour and flavour. Click here