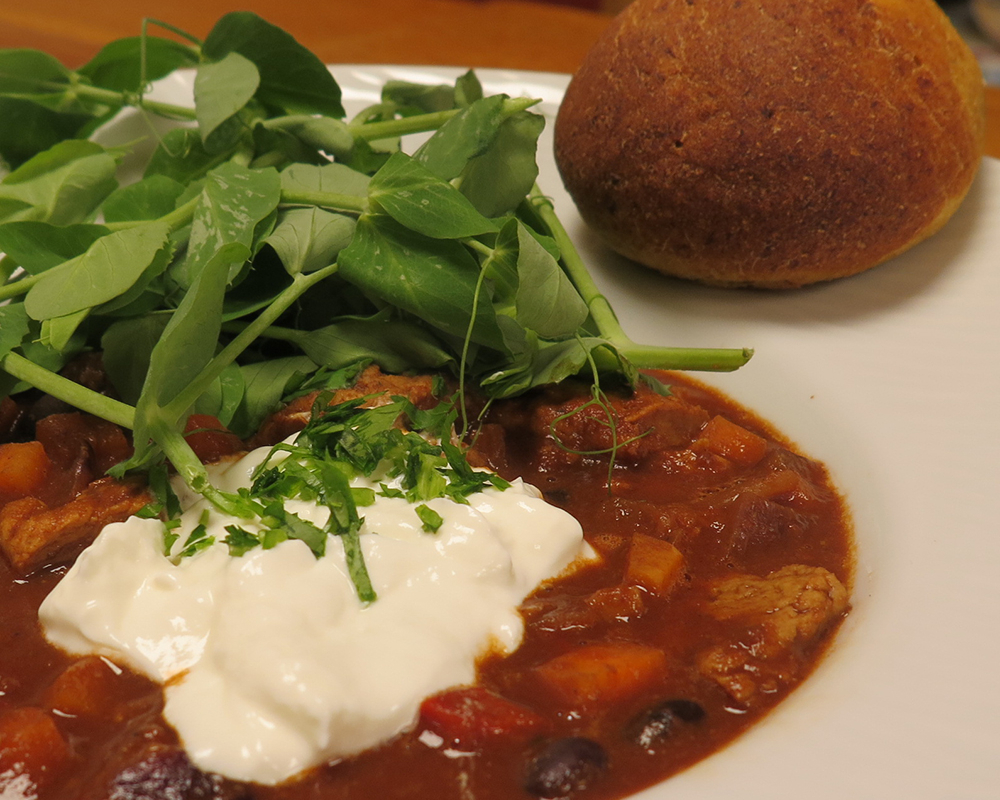 Plant Mate Chili sin carne
Serves 4
Ingredients:
1 bag of Flakes or Bites, 125g
1/2 dl oil
2 dl red onions, diced
2 garlic cloves
1 dl bell pepper, diced
2 dl carrots, diced or sliced
1 red chili, seeds removed
1 can chopped tomato 400g
4 dl water, boiling
2 dl coffee, preferable strong
2 tsp apple cider vinegar
1 tbsp ground cumin
1 tbsp salt
1/2 tsp ground black pepper
1/4 tsp ground cauenne pepper
1 tsp smoked paprika or sweet paprika
1 tsp ground coriander seeds
1/4 tsp ground cinnamon
1/4 tsp thyme
40g dark chocolate
1 can black beans or another bean sort, 250g
Put the Plant piecesin a bowl and pour over boiling water. They need to sit for 10 minutes approximately.
Saté onions and garlic in oil and let it simmer for a few minutes at medium heat.
Add in the spices and sauté them for about a minute.
Add in the vegetables and cook them till they turn slightly brown.
Now add the Plant pieces, tomato, coffee, chocolate and apple cider vinegar to the dish and bring it to the boil. Afterwards, the dish needs to simmer at medium heat for about 15 minutes.
You can serve the Chili sin carne with a piece of good bread and some créme fraiche.
If you want more sides boiled grains or boiled potato are highly suitable for the dish.
This recipe is developed by Vegetarzan