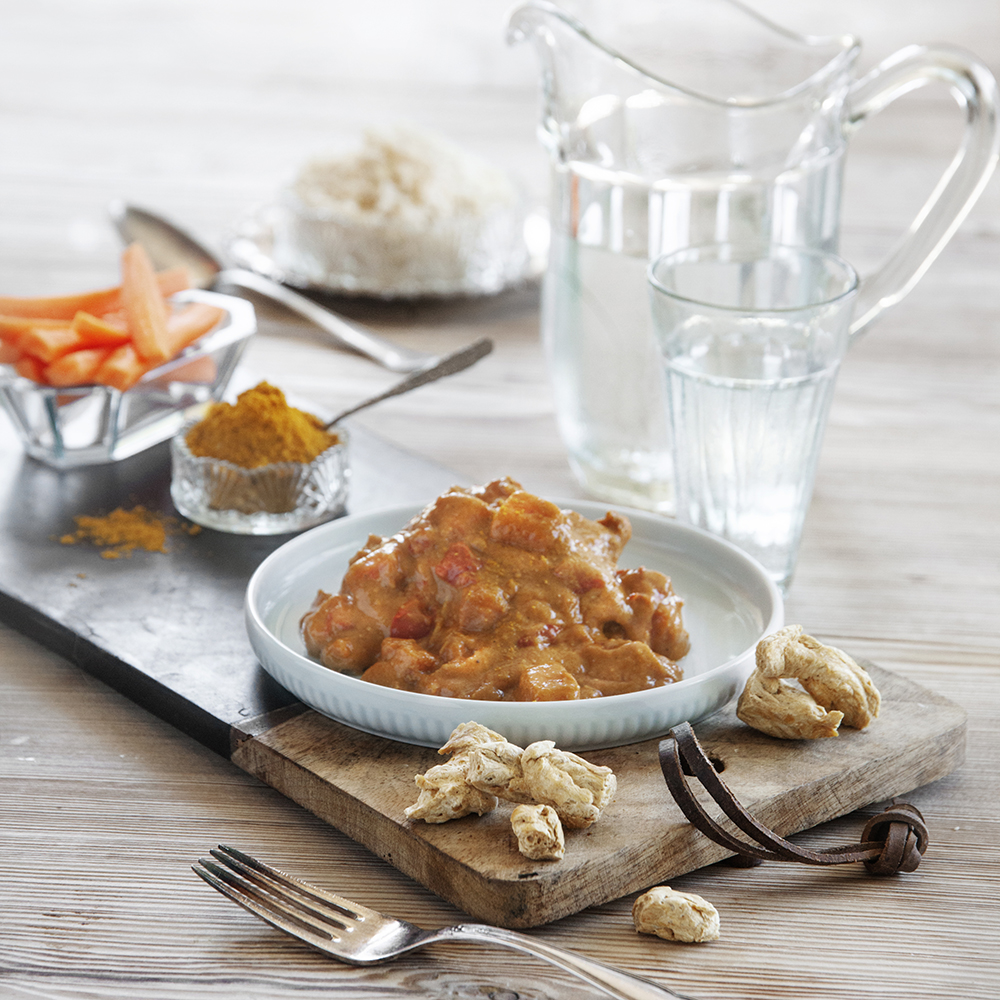 Plant Mate Curry Dish
Serves 4
Ingredients:
125g of Chunks, Flakes, Strips og Mince
5 dl vegetable broth
2 tbsp curry – your favorite
3 dl onion, chopped
1 tbsp + 1 tsp garlic, crushed
1/2 dl oil
3 dl coconut milk or oat cream or cream
2 dl apple juice
1 tbsp apple cider vinegar
1 1/2 tsp salt
1/4 tsp black pepper, ground
4 dl root vegetables, thinly sliced
2 tbsp cornmeal
Put the Plant Mate peices in a bowl and add in the hot vegetable broth. Stir a few times and cover with a place. Put it aside.
Sauté the onion and most of the garlic in oil for about a minute after which you add in the curry and continue to sauté.
Add in the Plant Mate pieces. If there is any vegetable broth left that you have not added yet, pour that in as well. Now you add the coconut milk, half of the apple juice, as well as root vegetables, vinegar, salt and pepper.
Heat it up to the boil and let the dish simmer at medium heat for about 15 minutes.
Lastly, to thicken the dish, use cornmeal mixed with the rest of the applejuice. Also, add in the last of the crushed garlic.
You can serve the curry dish with boiled grains, boiled rice or a mash.
It tastes good, it is healthy and it looks beautiful with roasted cauliflower and a freshly diced apple cubes on the side.
This recipe is developed by Vegetarzan