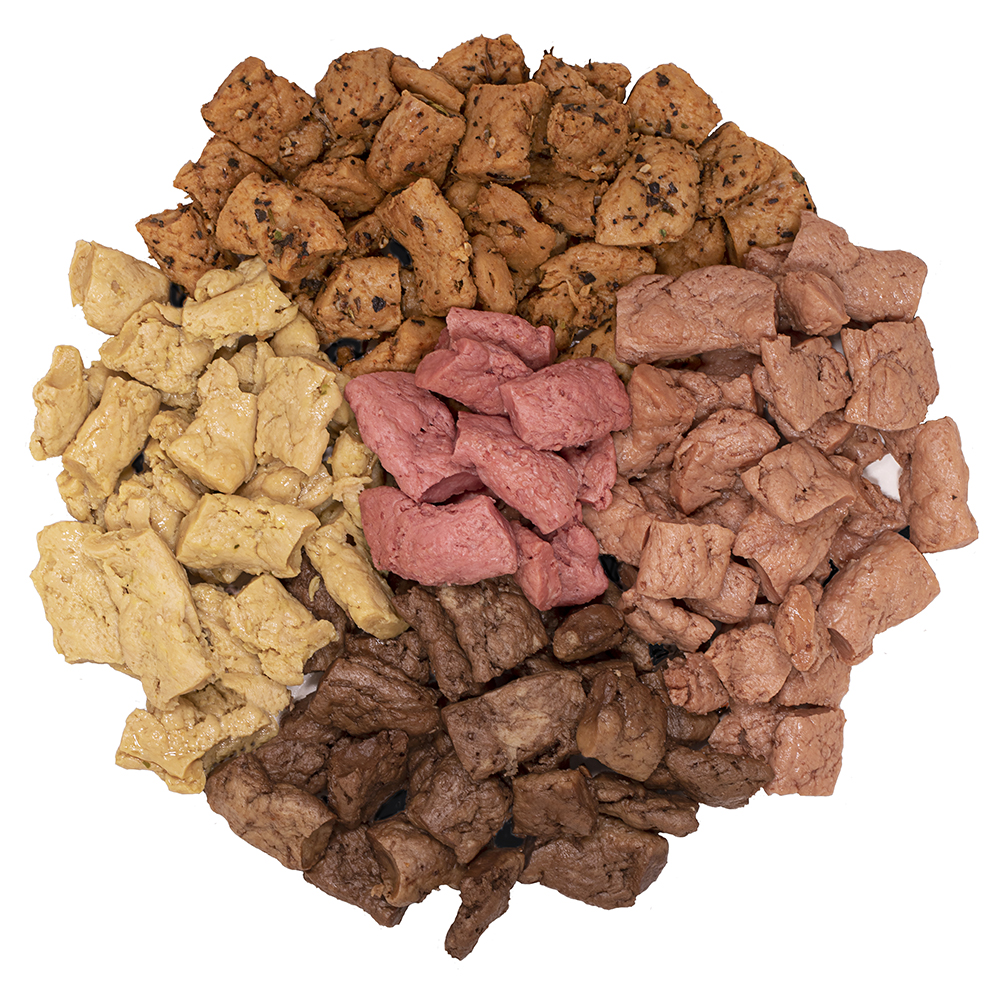 You decide the colour!
You can soak all the Plant Mate products in a liquid that changes the colour of the Plant Mate pieces. You can also add taste to the products through the liquid by for instance using spices.
For 125g Plant Mate you need ½ litre liquid and a little salt. 125g Plant Mate grows to about 400g after having absorbed the liquid. It takes roughly 10 minutes. Stir in the bowl occasionally.
Here are some proposals for the colour palette:
The red one
The red colour in the middle comes from beetroot juice. Substitute about 5% of the water with beetroot juice.
The dark brown one
The brown colour comes from coffee and cocoa. Substitute half of the water with "liquid! coffee and add 20g cocoa to the liquid.
The pink one
The pink colour comes from apple and beetroot. Substitute about 10% of the water with 6 tbsp beet root juice and 4 tbsp apple juice.
The orange one with dots
The orange colour comes from red hot spices and a vegetable broth cube. Use ½ litre plant-based broth (ex. boiled water and a cube). Add ½ tsp cayenne pepper, ½ tsp sweet paprika and ½ tsp smoked paprika – or whatever you like.

The light one
The light coloured one is the neutrally marinated one where only a small amount of salt is added to the water. The colour comes from the raw material, which is peas and faba beans.

After the 10 minutes, when the Plant Mate pieces are marinated, strain off any excess marinade.
Now the Plant Mate pieces are ready for a range of dishes, or you can simply roast them on a pan in some pil and they will be perfect for topping on a soup or other kind of topping. The dark brown is highly suitable for deserts or in the Date Snack.
A marinade can also be a good beer or the bottle of wine you already opened!
These proposals for types of marinade are developed by the Plant Mate Chefs.

More ideas for marinades are very welcome.