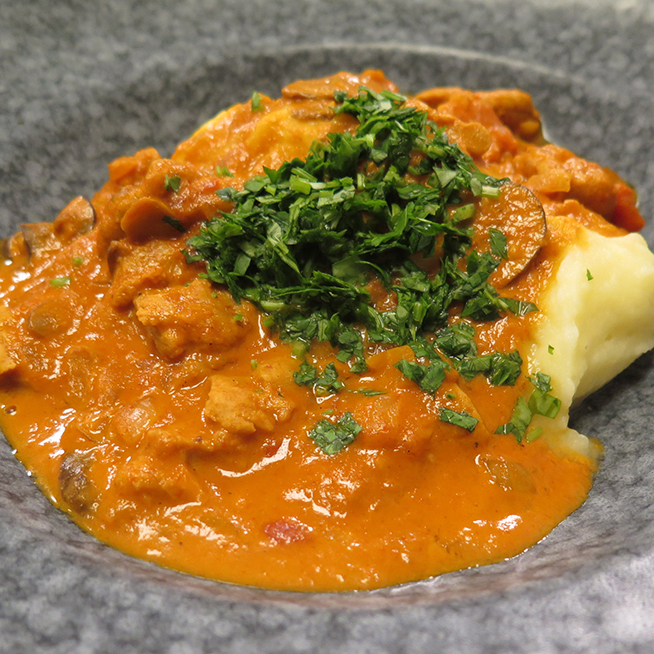 Plant Mate Stroganoff
Serves 4 
Ingredients:
1 bag Plant Mate pieces, 125g
5 dl water
1 tsp or a cube of vegetable broth
4 bay leaves
5 dl onion, chopped
2 tbsp garlic, minced
7 dl mushrooms, sliced 
1/2 dl oil
1 can/70g tomato puree
1 can/400g chopped tomato
1 1/2 tsp salt
1/4 tsp black pepper
2 tbsp sweet paprika
1/4 tsp cumin, ground
3/4 tsp smoked paprika
2 1/2 dl cream or plant-based cream
Pour the hot vegetable broth over the Plant Mate pieces, cover it and let it soak for about 15 minutes.
Sauté the onion and the garlic in oil and let it simmer at low heat for a few minutes. Remenber to stir so that it does not burn.
Add in the mushrooms and the tomato puree and brown them off for another 5 minutes.
Then add in the spices, the chopped tomato and the cream.
Finally, you add the Plant Mate pieces and the vegetable broth, if any – that has not been absorbed – along with the cream. Heat up to the boil and let the dish simmer for about 15 minutes beneath a lid.
This Stroganoff is rich in flavour and spice. You can serve the dish with boiled root vegetables or a mash. Drizzle with parsley.
The recipe is developed by Flavour Expert,
Michael Lauridsen.